The Bay Area Reporter won third place for overall excellence in its category at the recent California News Publishers Association awards.
The awards, for articles published in 2021 and announced last week via CNPA's Twitter feed, cited BAR in the weeklies category for articles with circulations between 11,001 and 25,000. Editor Michael Yamashita , editor Cynthia Laird, associate editor Matthew S. Bajko, former associate editor John Ferrannini, art editor Jim Provenzano, art director Max Leger, and production designer Ernesto Sopprani were credited.
The of them winner problems were published in September 2021.
"I am very proud of our entire team for their dedication and hard work, which is required to produce The Bay Area Reporter," Yamashita said. "It is gratifying to be nominated by our professional peers for this recognition."
The San Francisco Business Times took the top spot; the BAR was the only LGBTQ publication among the five winners.
Associate Editor Matthew S. Bajko. Photo: Courtesy of Matthew S. Bajko
In other CNPA news, Bajko received third place in the business news category for his stories about the opening of the Chick-fil-A franchise near the San Francisco city limit, gay man buying Castro's Dog Eared Books store and his Business Briefing column about San Francisco queer film commissioner Jack Song.
"Good range of sources. Clear knowledge of local news landscape and audience interest. Does not rely on emotional quotes or generalizations; information is supported by data points," said the a judge's comment.
Bajko also took fourth place in the reporting category for her story about Half Moon Bay opening a new LGBTQ community center.
"Matthew Bajko deserves the honors he has won, and the LGBTQ community is lucky to have such a dedicated reporter covering our issues," Yamashita said.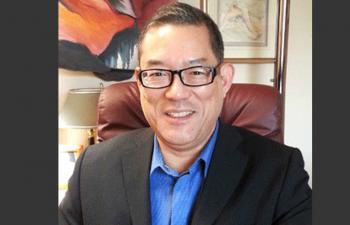 BAR editor Michael Yamashita. Photo: Cynthia Laird
Highlighted editor
In related news, Yamashita has been recognized among several Asian American and Pacific Islander leaders in local journalism by the Local Media Association. (LMA is the managing partner of the Google News collaboration of which the BAR is a part along with six other LGBTQ outlets.)
The article includes a Q&A with Yamashita, a gay man of Japanese, Chinese and Okinawan descent who bought BAR in 2017. He started at the newspaper in 1989 and became general manager in 1995.
Yamashita was asked about the one thing that excites him in the local media over the coming year.
"I am delighted with the return of events and businesses, which is essential to support local media," he said. "Advertising should match pre-COVID levels. Local media showed resilience during the shutdowns and many of those who survived became more efficient and flexible."
Another highlighted AAPI news leader is Sewell Chan, a gay man who is currently editor of the Texas Tribune. Chan previously worked at The New York Times, Los Angeles Times and The Washington Post. Chan was named one of Out magazine's Out 100 in 2014.
Help keep the Bay Area Reporter going during these difficult times. To support local, independent and LGBTQ journalism, consider become a member of the BAR.